If the music you like makes a dozen of tanks sound like a lullaby, if the tracks you listen to killed your neighbours, this man is probably involved. Forget about Breakcore, forget about avantgarde or AMRAAM missiles, your new favourite weapon is called Audiotist. 
The 29 years-old artist from Belgium mixes and remixes samples and tracks in the most delightfully violent way, and we decline any responsibility for all damage and riots happening after his gigs-which can also be avoided by listening to his side project Deidream.
AL: Can you tell me about your best experience as an artist ?
Audiotist: My best experiences were in Steegske, Gent. 
An awesome little dark dirty venue in the centre of Gent. 
That place is where I had my first memorable parties, without playing there. 
After a few years I got to play my first gigs in there, with at most of the evenings a big crazy crowd, partying till' early in the morning, every friday and saturday again. I think that place made people know about Audiotist.
Apart from that I loved my 'big' gigs I had. I've been on so many trips that I wouldn't have been able to do without my music. 
So every trip outside Belgium I still take as a big compliment. Seeing the people dancing to my music in Lithuania/Poland/Germany/France/England/Scotland/Ireland…it's still crazy to me !! 
Out of all these gigs Balter Festival, and The 100th edition of Bangface Weekender, must have been my best experiences!!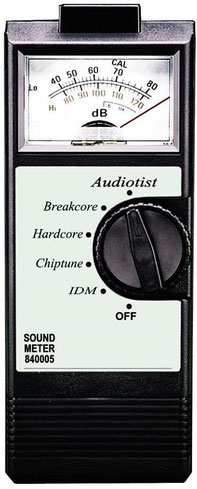 AL : Where do you find all the violence?
Audiotist: Mostly in my head, music is my therapy. 
I get influenced by a lot of different styles, but if I don't chop up samples, I just make everything by the feeling. 
I never learned to read notes or any other theoretics about music, but I know I should.
I love remixing tracks I've been listening too for ages, as well as spending hours to find the right melody, kick, break, cuts, whatever. My biggest problem is finishing tracks, as I am easily distracted or not satisfied with a project.
But I could say many of my tracks represent the chaos in my head and life with a touch of Borderline and Tourette. 
AL: What motivated you to start Deidream (that's fucking brilliant)?
Audiotist: It started in dedication to the person who motivated me the most making this `genre`, she was Deidre.
But I've always been making other things than hardcore, breakcore, terror… since I started Audiotist.
I write a lot of lyrics, and spend hours experimenting with breaks,melodies, LSDJ, pocket operators, instruments and other toys. But it never seemed to fit my hard chaotic and fast Audiotist live sets, 
And in comparison to my IDM/Break/Chiptune idols, I found/find my tracks far away from good.
I started experimenting more with gameboys, and I'm still making a lot of weird idm break stuff..I don't know how to call it. 
I haven't done anything with my IDM and break tracks since 4 years though, apart from some live sets in Belgium.
I had a LSDJ Gameboy album free release on Breakcore Gives Me Wood last year. (Deidream - A.M. ) and I still have a lot of plans that never come true!
I'm playing a IDM Deidream set in Berlin 22 october, first time I'll take that outside of Belgium. (Rave against the machine)
AL: Any plans for the next months ? Other projects ?
Audiotist: So many projects! I would do even more if I had time for it !
I used to have a hiphop group, in our flemish dialect, it's called Trisomie. That were some fun years. 
I still write a lot and every now and then I enter a cypher competition or record a track.
Since last year or something I have a new project with Wan Bushi, called Circus Brekovic. 
He is that weird samurai with tons of great tunes.  We got our first release this year on Erisian Records.
Also I've been making some stuff with the talented chiptune breakcore guy, R-MIT from Belgium.
We called ourselves Yurei and have some things for the future, but like everything else, I have no date for any release.
Plans for the next months are working my ass off , and maybe do some gigs in between if something comes up.
In comparison to "good" dj's, I have a full time job what makes my planning skills like shit. So I don't have a plan.
The lovely people that book me, my flights, and gigs are usually the ones that make my plans, so here they are :
In october i'm playing 2 Audiotist and 1 Deidream gigs in Berlin. Trash n core and Rave against the machine.
And as Audiotist and Circus Brekovic I'm playing in Hamburg in november.
Later this year also a BGMW party in Belgium. I dont know what I'll play there, probably something as my Deidream project.
And i just had a new free Audiotist release on Jigsore Records, my last one was apparantly already one year old.
AL: How do you feel about the state of the music industry?
Audiotist: I don't care at all as I don't count myself in it. Many people know me as a DJ or producer, but i don't see myself like this. 
Everybody can do what he or she wants and I probably will still not give one single fuck. I love that freedom of producing.
I love being independent so I wouldn't know how it is to be on a big label. 
But I also would love having my "best" track on a decent vinyl release. So I have to admit that sucks .
One thing is sure, I suck at promo, I don't do it, wouldn't ever pay for it, I don't spam, and i feel like this is all what happens lately.
The more likes you get, the more people will probably find you. But i love the fact that some fans just stumbled up on my music from coincidence, and they started loving it without any promoting stunts or by it forwarded by friends.
Self promo…I hate it !! For me, this has nothing to do with my music.
The 3 labels I sent my tunes to as Audiotist, in the last 5 years, didn't answer at all . So it was worth the try :)
All my releases are the result of the labels asking me for a release, and then I never say no. 
But I don't go begging anymore either. 
Maybe now i'm staying away from the disappointment of rejection, or maybe I just don't care about being famous and making a living out of this. It's kinda hard to let one person decide over my releases. When I have 3000 followers that would listen anyway without all the shameless promo. And i've never had the feeling my stuff is good enough to be pressed or to put a price on it.
Most of my releases are for free on my Bandcamp. And some day, when I'm rich, I'll press myself and biggest fans some vinyls or cassettes. Just because I would love to have that for myself . :)
AL: If you could destroy something, what would it be ?
Audiotist: The world, after I conquered it with Pinky and the Brain.
AL: Which other artists do you like ?
Hardcore breakcore terror idols must be Rainbow Ejaculation, Toecutter,Society Suckers, Rotator, Somatic Responses, Droon, Wan Bushi, Mr Bad Monkey, Tinkers ,Venetian Snares, Tripped, Stazma , Drokz, Noisekick , Ruby My Dear, Igorrrrrr ,...
Other artists that make me happy are Salut c'est cool, Dirty Dike, Jam Baxter, Ocean Wisdom, Eminem, Opgezwolle, Fresku, Necro, KNO, Ludovico Einaudi , Nils Frahm, Slipknot, Deftones, Radiohead, Frenzal Rhomb, Son Lux, Dirty Dike, Eddy Wally, Screamerclauz, Nasenbluten, Gabber Piet, Zjef Vanuytsel, Boudewijn De Groot, Het Zesde Metaal,...
I would love to keep on going but there are way too many artists I really adore !!
AL: Will you come to Graz or Kiel any soon ?
Audiotist: Sometimes I wake up at places i never heard of, or seen before, so that's always possible.
But i dont have any bookings there :)
AL: Your music makes people feel violently happy, how do you feel about this?
Audiotist: Violently happy !! Never thought anybody would like my music, I never made it with the intension of playing in front of a crowd and trying to keep a fanbase happy. As it happened , I really liked playing my tracks for people to dance to them.
And every now and then I get some seriously nice feedback about what my music can do to people, in a good way, or people that really understood the track and feel it the way I do. For those people I still make Audiotist stuff.
AL: In an interview with Solid Sound FM you said you, sort of, only release a soundtrack when you feel it's good. Do you mean YOU like it or do you mean the public will like it ?
Audiotist: I'll never know when the public will like it or not, I've made so many different things I don't know what people like anymore, if they come to watch me I don't know what they expect. Apparently I'm very self critical which makes me almost not release any tracks, or even put them online. However, I have loads of them. I just don't make a track with the crowd in the back of my head. Must of the time some friend has to tell me it's not that bad at all, and then I usually give it a try on soundcloud.
And then i'm just lucky when people like it.
AL: Feel free to insult anyone.
Audiotist: Fuck Trump, Kanye West , Rihanna and Lukaku !
Ow...and FUCK politics and all religions. Amen!