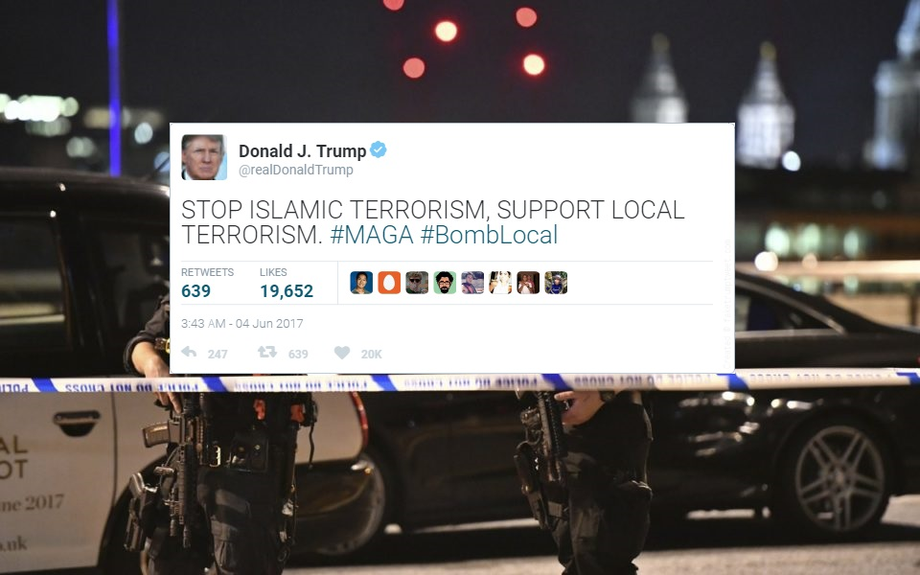 Following the tragic events in London last night, president Trump has sparked outrage with a single tweet calling for a travel ban. A number of foreign authorities have publicly adressed their support to the victims of the terror attack that took place at two sites in London-London Bridge and Borough Market.
The attack, within the context of a general election campaign, has left the country in shock and doubt as neither of the candidates seem to have a manifesto that deals properly with both economics and security. UKIP has refused to suspend its campaign and notorious far-right politicians heavily criticized islamist fundamentalism. Le Pen, without adressing the families, asked "How many attacks until we consider islamist fundamentalism as a barbaric totalitarism and eradicate it from our countries?", while Dutch PVV leader Geert Wilders has tweeted "Close our borders for Islam. No more!" among other anti-Islam tweets, none of them directed at the victims.
President Trump seems to be one step ahead as he has decided to call for support of local terrorism against non-white terrorism that "steal our jobs and bomb our poorly educated," drawing heavy criticism from both right and left wing parties in the US and in Europe. For now, the president has refused to answer the journalists but has expressed his concerns in one of his usual 3AM twitter-rants, arguing that "they don't even use OUR bombs, weakening the US and EU bombing industries" and has published a campaign poster reading "American Doom not Islamic Boom" and "Use american weapons, support your local business"
Trumporter Jared Nutnutter, 56, thinks "the president is taking the right decisions, we should be in control of the kids we murder and stop focusing on libtard issues like gun control and the fact that a vast majority of attacks are just good guys like my boy, mass shooting the shit out of the liberal education system." 
The idea seems to be appreciated among scavengers. Marine Le Pen and Nadine Morano have adressed their support to Corsican and Basque "respectable local terrorism," while English Gobshite Party leader Nigel Farage has publicly congratulated Jeremy Corbyn for his refusal to call the IRA a "terrorist organisation" despite their different political views.
We are adressing our deep condoleances to the families of the victims and our support to our neighbours and friends.