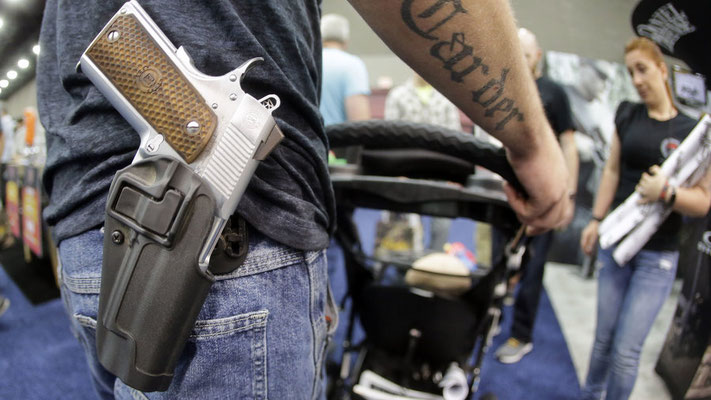 Following the 18th school shooting of the year, president Trump failed to mention guns or gun control in his speech, and focused on mental illness instead before blaming Democrats and the FBI for the tragedy, forgetting that he is the one who has allowed mentally ill citizens to carry guns.
Not only the president refuses to talk about gun control, but he, and the GOP, believe that a solution is "more guns" because "clearly, if EVERYONE had a gun in a school, such horrific events would never, ever, ever happen." Indeed, it has been shown that 99% of the people know exactly how to react when a crazy fucker with an AR 15 starts firing and that 85% even managed to remain calm and knew exactly who that bad guy was when everyone has a gun in their hands.
In a few schools, openly carrying a gun is allowed, which seems to be surprisingly less effective than basic gun control laws like they have in Germany or Australia. Accidents, revenge, frustration: there are many reasons why kids would take a bullet in the stomach, but few good ones and even fewer good endings to the story. Which is why Trump announced his plan to allow "guns to carry guns." 
The president stated that "some people are very, very bad guys. And sometimes you have a good guy with a gun but what if this guy is not fast enough? What if he doesn't want to kill the bad guy? This is why we will introduce the Second Second Amendment, which allows guns to carry guns so that good guys with a gun with a gun can rely on their good gun with a gun to take care of the bad guy's bad gun with maybe a gun. It's a lot of work and we'll need to identify good guns and bad guns first, but believe me it'll be so much gooder for you, so much gooder."
Is it the end of the "guns don't kill people" argument? Democratic leader Nancy Pelosi said she sees "no reason why guns would just kill guns, no to mention the fact that this idea is stupid because guns are objects."
---